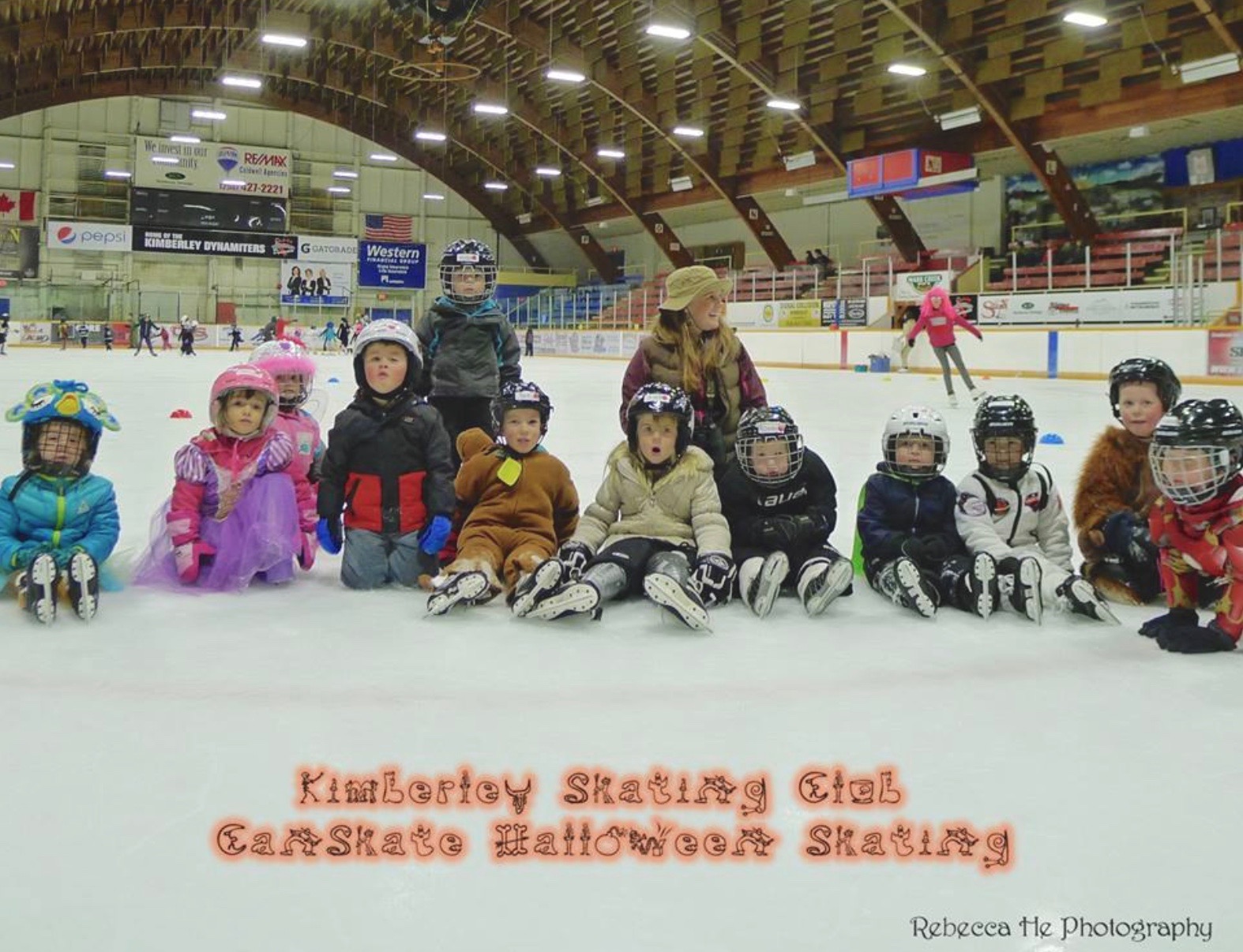 CanSkate Welcome Letter- Winter 2021
Hi Everyone,
We are excited to welcome back our returning members as well as welcome all our new CanSkaters and parents to the Kimberley Skating Club. We will be providing you with lots of information over the year and opportunities to ask questions, provide feedback and participate. The year will be filled with fun, and we hope that you and your children enjoy the Kimberley Skating Club CanSkate program!
Jessica Grajczyk, our head coach, is available for questions at the rink or via email. If you have any concerns or perhaps even a compliment, we'd be happy to hear from you. Our contact information is listed at the bottom of the document.
What is CanSkate?
CanSkate, Skate Canada's learn to skate program, is one of the most sought-after skating programs in the world. CanSkate was developed by experts to teach the fundamentals of skating in a progressive and sequential manner. Designed for beginners of all ages, the focus is on fun, participation and basic skill development. Participants earn ribbons and badges as skills are mastered. Skaters are taught in a group lesson format by a NCCP certified professional coach, assisted by trained program assistants.
Standards have been nationally developed and tested for success by experts and are a part of our CanSkate program. On-ice activities require 90% movement – skaters are moving and learning using circuits and stations to practice skills; use teaching aids and music; use activities and games according to age groups and award CanSkate badges as skills are mastered.
Program Structure
Progress Report Cards are given out at the end of each ten-week session. The report will keep you up to date on the progress of your child and will include comments from the professional coach. These are for you to keep as we keep a copy of each skater's progress.
A CanSkate session consists of four main components:
Warm-up

Lesson time

Group activity

Cool down
The First Session
The first day on the ice is a lot of fun for your child but it is also a hectic one for the coaching staff. Although the groups are pre-arranged based on information that you give us, we often find that groups will need to be rearranged and new skaters tested to see what level they truly fit into. Jessica and Kelsey will be moving skaters around throughout the first session to make the groups more equal in ability, age and needs.
The Remaining Portion of the Season
We will also be moving skaters to new groups throughout the season to meet the needs of the skaters. Please check your child's name tag to make sure that your child is still in the same group. Your child's name tag will have the colour of their group on it. Most groups will progress together, but there are times when one or two skaters would benefit more from being in a different group.
We are here for your child, so if movement from one group to another is an issue, please let us know! Our goal is to have fun and learn, and that can only happen when the children are comfortable and happy.
Program Assistants and Professional Coaches
The CanSkate program runs with lessons from a professional coach and assistance from 'Program Assistants' or PAs.
The Professional coach will prepare the lessons, teach the skills, keep records of progress and be available to answer questions about your child. Your child will receive a minimum of 20 minutes of lesson time from a Professional Coach. The Program Assistant is not a professional coach. They are young skaters who are helping our club and your CanSkate program. They are on the ice to 'assist' the professional coach and to lead aspects of the program. They supervise the rotation of groups between zones and around fast track, take attendance, hand out weekly motivators and incentives such as stickers and act as role models for your child.
If you have any concerns about your child's group and the lessons, you must speak to either Jessica or Kelsey. You may of course ask the PA to get the professional coach.
Special CanSkate Days and Other Events
You will receive a calendar each month which will list special 'theme' days for the skaters. Participation in these theme days is a lot of fun, so don't forget them!
CanSkater of the Month
The club will choose a CanSkater each month that has shown great effort, attendance, respect to other skaters and coaches and an overall love for the sport of skating. Their photo will be taken and displayed on our information role out board.
CanSkater of the Year
The club will choose a CanSkater to be nominated for the 'CanSkater of The Year' Award presented by the Kimberley Skating Club.

Important CanSkate Parent Information
# 1 EQUIPMENT
Most department and sports stores and specialty skate shops sell skating equipment in a variety of price and quality ranges. Before buying skates, check carefully for:
proper fit

firm ankle support

good quality leather

correct blade placement
Avoid buying skates that are a larger size. Please check when your child has the skates on that the skates 'stand up straight'. There are some entry-level skates that have the blades riveted on at odd angles making skating impossible. We will communicate with any parent whose child has a pair of skates that will restrict learning.
When tying your child's skates, if there is excess lace, please hook it around the hooks a few more times, or cut the lace to a good size.
**Please do not wrap the laces around your child's ankle.
#2 SHARPENING YOUR SKATES
sharpen skates as soon as they are purchased

use a good skate-sharpening company

re-sharpen skates after approximately 30 hours of skating (depending on usage and care)

the bottom pick should not be removed on figure skates – the pick is part of the design of figure skates and is essential to proper balance
#3 CLOTHING
Please dress your children warmly as you would if they were going outside to play in the winter, as it is cold in a skating rink. If your children are cold, they may not enjoy their skating experience.
#4 SAFETY

**Helmets are mandatory on CanSkate sessions. Please make sure your child is wearing a CSA certified hockey helmet.

Preventing an injury is better than dealing with one. Skate Canada clubs and coaches endeavour to plan sessions with "safety first" in mind. Here are basic safety rules that skaters should follow on every Skate Canada session:
Equipment should be checked regularly to see that it is appropriate, fits and is in good repair.

Do warm ups and cool downs which include stroking and slow stretching. Some of these exercises may be done off the ice.

Any skater with a previous injury must be 100% recovered before returning to the ice.

Get up quickly after falling down

Look in the direction of travel when skating backwards

No pushing, playing tag or bumping into others or the boards

No gum or candy on the ice

Sharp objects should not be carried in pockets

Starts and stops should be done a safe distance from the boards.

Laces should be tucked into the top of the boot. The laces should never be wrapped around the top of the boot as it is a safety hazard and circulation to the foot may be cut off.
Coaches and club administrators should be advised of any skaters with special medical condition.
Contact Information
If you have questions or concerns, please feel free to contact us using the information below:
Jessica Grajczyk, SC professional coach, BKin
headcoach@kimberleyskatingclub.com
Kelsey Paterson, SC professional coach, BPEC
coach@kimberleyskatingclub.com
Board Member and CanSkate Representative
Canskate@kimberleyskatingclub.com
We are so excited to welcome all our skaters back and are very excited for the year ahead.